70,000+ Used Vinyl Records for Sale
At Music To My Ear, we're simply mad about vinyl records! Our collection has now jumped up to more than 70,000 used vinyl records. The good news is they're all for sale—starting as low as $4.00!
We carry all styles (rock, jazz, soul, funk, hip hop, blues, folk, country, soundtracks, showtunes, classical, indie/alternative, and every sub-genre you can imagine). If it's on vinyl, it's either here now or passed through our doors and into someone's record collection. On any given day, there are at least 70,000 titles to choose from, and we're freshening our racks all the time. We sell both new and used vinyl.
If you're looking for a specific title or artist, give us a call at 412-223.9747.
Get Top Dollar for Used Records
Is your pile of vinyl collecting dust? Do you want to clear out some space or some old titles? We purchase small to large record collections 6 days a week.
How Does it Work?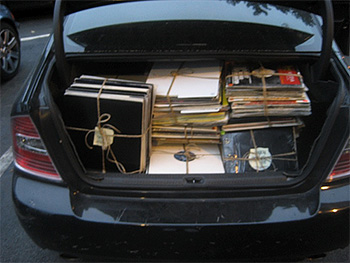 Selling your used records is super easy. You can either give us a call at 412-223-9747 (ask for Vinyl Curator, Chris Kardasz) or bring your record collection to our store at 3003 Babcock Blvd. in Ross Township, and let us make you a deal. We'll carefully review your records based on condition, pressing, and rarity and take the time to tell you how we arrived at the value. We have plenty of free parking, making it easy to load/unload your records.
What We Buy
We buy used records from all musical genres with an emphasis an emphasis on Jazz, Soul, Rock & Roll, Blues and international music. We buy used LP's, 45's and CDs.
Questions?
We're here to help. Call 412-223-9747